Today is International Women in Engineering Day. Despite the fact that women are still underrepresented in science, more women are pursuing a career in science. For the International Day of Women and Girls in Science, we asked our employees about a career in STEM. When did you first become interested in STEM? What makes it so fascinating? We hope their stories will inspire others to explore their opportunities!
Jeanette Prangsgaard
I've always been fascinated by how the body works – the body is brilliant and complex! I knew that pursuing a career in STEM could meet my curiosity. I have found my passion in vaccine development, where I can combine the natural function of the immune system with science to prevent infectious and immune-oncologic diseases.
Jeanette is Project Manager at 2A Pharma. As a project manager, she is involved in every step of vaccine development. She primarily works on the human papillomavirus vaccine project with Phase 1 finalised.
Mathilde Sanden
I've always been fascinated with science, particularly biology. The fact that I was raised in a family where health, physical activity, and the human body were highly valued encouraged this curiosity. I believe it's crucial to understand things that are essential for human living. That's why I chose a career where I every day dig deeper into the healthy and pathalogic body systems.Existence of life is amazing – also when vital mechanisms go wrong.
Mathilde is the main responsible for early R&D projects at 2A Pharma. As a project manager, she primarily works on the head and neck cancer project.
Emma Huus
My interest in science started when I got my first children's encyclopaedias on topics like space, the human body, and mammals. Biochemistry really spoke to me in high school, which encouraged me to pursue it, and it paid off. It's exciting because there's so much you can do as a lab technician. I can work in vaccine development as I do now, but also working in a lab that focusus on the environment, nanotechnology, or biology is possible. If you have an interest in any of the STEM fields, don't be afraid to pursue it.
As a laboratory technician, Emma is working on performing different assays, such as ELISA. Further, she optimises methods that are used in the lab to generate successful results.
Charlotte Sten
In high school, I had a chemistry and biology teacher who made the classes fantastic. We did many exercises in the lab and visited a lot of laboratories in the industry, which inspired me to work in the laboratory and dive deeper into science. It's amazing to explore how the world is built, how things work, and to find answers via the work we do. Remember that you are good enough as you are and that you have the ability to pursue your passions and make your dreams come true.
As a laboratory technician, Charlotte works both on the extraction, purification, identification, and concentration of proteins and on the downstream purification of our AAVLP vaccines.
Are you considering a career in science and would like to know more? Please contact us via the contact form.
Read also why Angelique Corthals, a social scientist, why are career in science is so fascinating.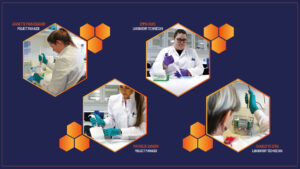 Back